Report on preliminary visit and discussions Balkan Beekeeping Congress and Fair,
Edirne, June 1-4, 2006

According to the Decision of Balkan Beekeeping Federation General Assembly of April 28, 2006 in Bucharest, Beekeeping Association of Turkey has been elected to hold the first beekeeping Congress of the Federation. Therefore at the invitation of Turkish Beekeeping Association a delegation of Romanian Beekeeping Association and FIITEA Apimondia paid an evaluation visit to Edirne to inspect the facilities and have preliminary discussions on how to organize the Congress and Fair. The Congress and Apiexpo will take place in the period of Thursday March 29 to Sunday April 1st, 2007. The estimate participation is between 2 to 3 thousand people.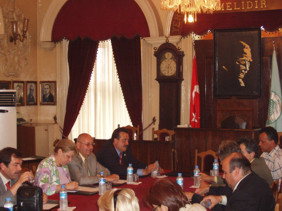 On the Turkish side we met with Beekeeping President Mr. Mustafa Sarioglu, Ms. Melda Koksal, Director General Ministry of Agriculture, Ziya Sahin, Secretary General Turkish Beekeeping, President and Vice President of Edirne Beekeeping Association, and leading beekeepers of Trakia area. On Romanian side, Beekeeping President Eugen Zorici, Petru Moraru, Director General Institute of Beekeeping Research, Constantin Popa, Director General Beekeeping Plant, Laurentiu Rosu, researcher, and on Apimondia Foundation side Cristian Constantinescu, Director General and Vice President of Balkan Federation and Marta Giogia, Apimondia Publishing and Printing House.

We enjoyed a very good reception by paying various visits, including the visit to The Mayor of Edirne and a press conference followed by articles and photos in three journals as well as a TV news report on prime time news at 8:00 pm on Saturday June 3. This shows the importance that the Turkish side is attaching to this event.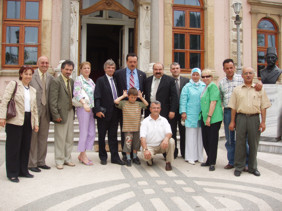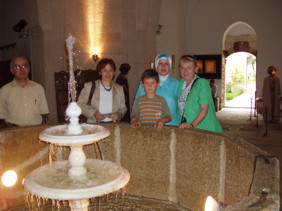 We found out that Edirne Municipality is offering o lot of support with local transportation of participants from certain locations in town to the Congress Hall and the government in Ankara is ready to offer all facilities for an easy border access of participants and particularly for foreign companies that wish to come with products at the Balkan Honey Fair. The Ministry of Agriculture will particularly contribute a lot. This information will be released after concrete demands would be known.

According to the Guide approved at the Balkan Federation General Assembly of April 28, 2006 we reviewed the issues concerning:
printed welcoming addresses: President of the Turkish Beekeeping Association and President of Balkan Federation of Beekeeping Associations;
Opening ceremony (Turkey minister of Agriculture, Mayor of Edirne, Presidents of Balkan Federation, Turkish Beekeeping, Apimondia and other VIP) in a Congress Hall of up to four thousand seats downtown Edirne; The ceremony will be followed by attractive artistic performance.
scientific program for the following three days will take place in a Conference Complex, a few km from Edirne. Transportation by buses will be offered by Edirne Municipality;
Apiexpo will take place at the Conference Complex from Thursday March 29 until Sunday April 1st 2007
Registration: full participation fee should not be more than Euro 150.00/participant. There will be gratuities including accommodation for Associations members (two representatives), Apimondia President and members of Apimondia Executive Council who will assist the scientific program, leaders of regional beekeeping organizations around the world.
Hotel information will soon be provided;
There will be monthly information about Congress which will be forwarded to all member countries. This information from Turkey will be provided by FIITEA Apimondia in various languages and printed in beekeeping magazines of the Association members. The titles will include: Beekeeping in Turkey; Turkey in brief; Edirne, your host city; Climate and Clothing; Language; Currency and Banking; Congress venue; traveling by plane; transport from Istanbul Airport to Edirne city center; taxis; buses; car rental; shopping; health insurance; visa requirements, etc.
Closing ceremony in the Congress Hall downtown Edirne followed by farewell reception.
Urgent recommendations:
By June 10, 2006, Turkish Beekeeping Association will provide the name and coordinates of the chosen specialized Turkish company to organize the Congress and Apiexpo;
Balkan Federation Commissions should start their work. The deadline for their shaping up was May 30, 2006. I understand that this information should be already with Secretary General Stephan Stephanov. Meetings of the designated representatives in each Commission should be convened soon to set up the way of collecting original and interesting reports for the Congress. It is most important that Commissions decide upon program schedule of their presentations. I have the suggestion that we have meetings for the six Commissions in the two rooms of 350 seats each (three days) and at the same time workshops in the four smaller rooms of about 50 seats. While the two out of six Commissions have their sessions in the two larger rooms, the other four Commissions may have workshops in the smaller rooms. The rooms are equipped with adequate equipment. Slide projector, power point presentations, and video facilities for watching the presentations in the other rooms if necessary.
Simultaneous translation is necessary. We still have to select in how many languages. In Bucharest we decided that English and Russian should be the working languages. We may decide that in the case of Congresses we should add the language of the host country too. Besides, the translation team can only do it only in one of the rooms. In the case of workshops we have still to decide in which language and how we achieve this.
There should be a printed program containing all information and a volume of summary reports. All these and other information or souvenirs should be in a special folder that is given to each participant
At the end of the Congress we need to decide if we issue the Congress volume with full reports and speeches at the opening and closing ceremonies, including photos from the main events.
We may also decide to issue a CD with power point, slide, and etc. presentations of scientific reports on each Commission.
Special care should be devoted to ensure catering services/restaurant facilities for participants. I understood that tea/coffee will be served free of charge by generosity of Edirne Municipality/Turkish Beekeeping Association.
Papers necessary for the registration of the Balkan Federation should be mailed immediately to Secretary General Stephan Stephanov. At the request of Serbian Association the registration was postponed until mid of July.
Member Associations will give full support in making the Congress and Apiexpo known in their own countries by all means at their disposal (printed matter, interviews, radio and TV information). It is VERY important to ensure a large participation of beekeepers to this regional/international event. Specialized tourist companies in all our countries should be informed about this event.
I am kindly suggesting our President Kosta Kostov to convene the next meeting of Balkan Federation not later than September/October 2006. The final program of the Congress should be approved by Balkan General Assembly. I suppose it may take place in any of our countries. It is the President choice to decide.
I would like to point out the determination of the Turkish Association, including the Turkish government and the beekeepers of Edirne to achieve a good Congress. Edirne is a very interesting and pleasant city with very hospitable people. Historic places may impress anyone. I do believe that this is a very good choice for our first Congress. Accommodation and food are convenient, cheaper that in any other of our countries and shopping is a real attraction. I am confident that President Mustafa Sarioglu, the ministry of agriculture and the Beekeeping Association in Edirne will do their best to make this Congress a memorable event.

Thank you all.

Cristian Constantinescu
Vice President of Balkan Federation of Beekeeping Associations